Easel Paintings
Portraits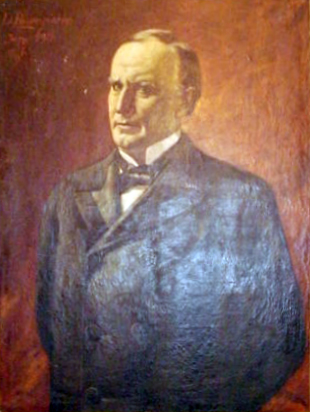 William McKinley
June 19th, 1896, dated in signature
Oil on canvas
6 x 4 ft., approximate
Whereabouts unknown
Elected to his first term of office on November 3, 1896, William McKinley was President of the United States from March 4, 1897, until September 14, 1901, when he was assassinated while attending the Pan-American Exposition in Buffalo, New York.
The painting is based on this photograph of McKinley taken in 1896 (probably a campaign photograph), though the eyes in the portrait look more like this photograph.
In the artist's signature, the painting is dated June 19, 1896, the first day of McKinley's "front porch" campaign, following his nomination to the Republican ticket.
However, I am not certain the painting was made in 1896. I suspect Buongiorno was commissioned, perhaps by a political club or other group sympathetic to McKinley, to make the painting for exhibit in Buffalo during the Pan-American Exhibition, as Buongiorno claimed participation in the Exhibition in his art biographies.
The painting was not exhibited in an official building of the exhibition, that I can determine—and records on the exhibition are extensive, so this is most likely definitive. Perhaps it was exhibited in a political building or local Republican office in Buffalo and Buongiorno was stretching the association to the Exhibition.
The painting may even